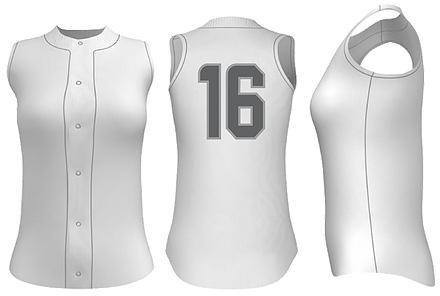 Ace Series Softball Jersey
The Ace Series Softball jerseys are offered in both a traditional women's racer-back sleeveless design and a short sleeve design.  Both sleeveless and short sleeve are offered in 2 different profiles - 2 Button and  Full Button. The Ace Series is manufactured from our pinhole mesh fabric. This fabric offers a high degree of moisture management and ventilation coupled with excellent comfort, range of motion and durability. Optional sublimated twill numbers are available.
Part #:
Sleeveless BA-JS-120 (2-Button) / BA-JS-121 (Full Button)
Short Sleeve (not shown) BA-JS-126 (2-Button) / BA-JS-127 (Full Button)
 
Fabric: Pinhole Mesh
Numbers: Jersey pricing includes sublimated front and back numbers. 
Sizes: Women XS-3XL |  Girls S-XL
 
Options:
Personal Names - Sublimated | FREE
Pricing:  2 Button / Full Button  *** Bundle with pants and save 10%! ***
10-29:  $29.00 / $30.00
30-49:  $28.00 / $29.00
50-99:  $27.00 / $28.00
100-299:  $26.00 / $27.00
300-499:  $25.00 / $26.00
500+:  $24.00 / $25.00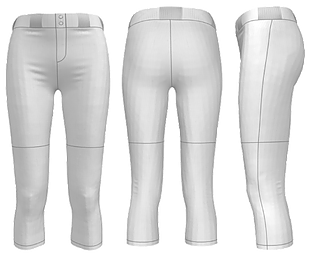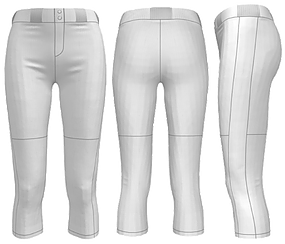 Ace Series Softball Pants
Our Ace Womens Softball pants are a 3/4 length softball pant offered in a fully sublimated version as well as a hybrid version where just the sides, belt loops and pocket trim is sublimated.  Manufactured from our heavyweight interlock fabric these pants are both durable and incredibly comfortable.
Item Details
Part #: ​BA-PS-116 (Full Sublimated) / BA-PH-116 (Hybrid)
Fabric: Heavyweight interlock
Numbers: Optional on pants
Sizes: Women XS-2XL |  Girls S-XL
 
Options:
Personal Names & Numbers - Sublimated version only | FREE
 
Pricing:  Hybrid / Sublimated   *** Bundle with jersey and save 10%! ***
10-29:  $30.00 / $37.00
30-49:  $29.00 / $36.00
50-99:  $28.00 / $35.00
100-299:  $27.00 / $34.00
300-499:  $26.00 / $33.00
500+:  $25.00 / $32.00